Leverages Company's technological expertise in Artificial Intelligence (AI) and Natural Language Processing (NLP) as core foundational technologies to link and make a broad array of information sources and data discoverable.
Adds $1.3 Million to Annual Recurring Revenue
HENDERSON, Nev., July 31, 2023 /PRNewswire/ -- Research Solutions, Inc. (NASDAQ: RSSS), a trusted partner providing cloud-based workflow solutions to accelerate research for R&D-driven organizations, today announced its acquisition of ResoluteAI, an advanced search platform aimed at equipping organizations with search, discovery, analysis, and knowledge management tools powered by AI and NLP technologies. ResoluteAI's state-of-the-art integrations of taxonomies, ontologies, and knowledge graph technology, together with the latest Large Language Models ("LLM"), make information discovery and retrieval highly efficient.
"At Research Solutions, we empower research-intensive organizations to accelerate innovation," said Roy W. Olivier, CEO of Research Solutions. "This strategic acquisition allows us to broaden our technological expertise, transforming our solutions by leveraging the latest technology to help researchers power their innovation workflows, saving time and enabling users to make decisions confidently as they seek to achieve the next innovative breakthrough. This technological foundation will enable Research Solutions to provide specific solutions for use cases throughout the Innovation process from Strategy to Research & Development to Post-Market and Commercial solutions."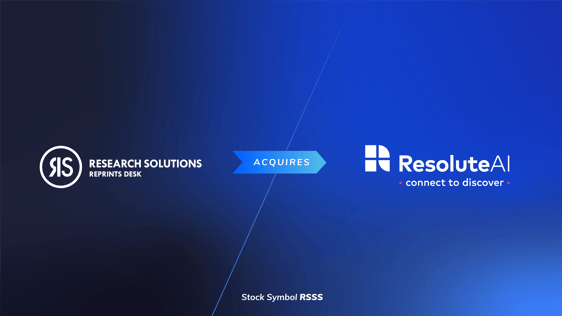 The transaction will enable Research Solutions to deliver true enterprise search capabilities across a comprehensive suite of data sources and extend their reach into effective knowledge management, including search across customer internal datasets. ResoluteAI's current suite of integrated datasets, while providing a comprehensive resource for Life Science companies, including Pharma, Biotech, and MedTech, also includes datasets relevant to all other industries, such as engineering and chemical-focused innovation. Integration between the two companies' solutions will allow the combined company to offer a comprehensive product ecosystem that delivers insights to users throughout the innovation process. The acquisition also represents a strong cross-selling opportunity, stemming from highly complementary products and technology that cater to key sectors and market segments.
Integrating the advanced search capabilities of ResoluteAI into Research Solutions' Article Galaxy platform and rapid access to every scientific journal article into ResoluteAI's Foundation platform will be the immediate first steps that will translate into an upgraded customer experience for existing and new customer bases.
"The advanced search technology of ResoluteAI, in combination with Research Solutions' expertise in reference management and document delivery, creates tremendous opportunities to leverage strategic technology synergies," said Steven Goldstein, CEO of ResoluteAI. "We are excited to join Research Solutions and apply our expertise to deliver best-in-class research workflow solutions."
Together, the companies will continue to deepen their understanding of the innovation value chain and the specific needs of users and customers to create a product ecosystem that allows for the flexibility to adapt products and business models to the needs of industry leaders and researchers.
"ResoluteAI shares our mission to support the innovation process from end to end with the most comprehensive information and knowledge tool on the market," shared Michiel van der Heijden, Chief Product Officer of Research Solutions. "We are transforming how people discover and acquire information and how they analyze and manage the data they need for their work as part of an overall workflow."
Founded in 2015 and headquartered in New York, New York, ResoluteAI develops advanced search and discovery tools covering several workflows, including but not limited to, Research & Development, Competitive & Market Intelligence, IP Management, Clinical Operations & Analysis, Post Market Surveillance, and Business Development. As of June 30, 2023, ResoluteAI had approximately $1.3 million in Annual Recurring Revenue under contract.
For further information, please contact Steven Hooser or John Beisler at (214) 872-2710 or shooser@threepa.com; jbeisler@threepa.com.
Media inquiries can be directed to Joseph Tracy, Vice President of Marketing, at jtracy@reprintsdesk.com.
About Research Solutions
Research Solutions, Inc. (NASDAQ: RSSS) provides cloud-based technologies to streamline the process of obtaining, managing, and creating intellectual property. Founded in 2006 as Reprints Desk, the company was a pioneer in developing solutions to serve researchers. Today, more than 70 percent of the top pharmaceutical companies, prestigious universities, and emerging businesses rely on Article Galaxy, the company's SaaS research platform, to streamline access to the latest scientific research and data with 24/7 customer support. For more information and details, please visit www.researchsolutions.com.
About ResoluteAI
ResoluteAI is an award-winning intelligent search platform. Used by scientific organizations around the world, Foundation lets commercial science enterprises search aggregated scientific, regulatory, and business databases simultaneously. Nebula is our enterprise search tool for science. Combined with our interactive analytics and downloadable visualizations, ResoluteAI helps make connections that lead to breakthrough discoveries.
Important Cautions Regarding Forward-Looking Statements
Certain statements in this press release may contain "forward-looking statements" regarding future events and our future results. All statements other than statements of historical facts are statements that could be deemed to be forward-looking statements. These statements are based on current expectations, estimates, forecasts, and projections about the markets in which we operate and the beliefs and assumptions of our management. Words such as "expects," "anticipates," "targets," "goals," "projects", "intends," "plans," "believes," "seeks," "estimates," "endeavors," "strives," "may," or variations of such words, and similar expressions are intended to identify such forward-looking statements. Readers are cautioned that these forward-looking statements are subject to a number of risks, uncertainties and assumptions that are difficult to predict, estimate or verify. Therefore, actual results may differ materially and adversely from those expressed in any forward-looking statements. Such risks and uncertainties include those factors described in the Company's most recent annual report on Form 10-K, as such may be amended or supplemented by subsequent quarterly reports on Form 10-Q, or other reports filed with the Securities and Exchange Commission. Examples of forward-looking statements in this release include statements regarding additional customers, potential acquisitions and the Company's prospects for growth, profitability, and cash flow. Readers are cautioned not to place undue reliance on these forward-looking statements. The forward-looking statements are made only as of the date hereof, and the Company undertakes no obligation to publicly release the result of any revisions to these forward-looking statements. For more information, please refer to the Company's filings with the Securities and Exchange Commission.
SOURCE Research Solutions, Inc.
Contact
Steven Hooser or John Beisler, IRC
Three Part Advisors
shooser@threepa.com
jbeisler@threepa.com
+1 (214) 872-2710