Hot on the heels of our big Article Shelf Browser release, we're back with lots of improvements for you across the Article Galaxy product line. This release includes new and improved features for COVID-19 Research Viewer, Bibliogo, Article Galaxy Widget, Article Galaxy News Reader, Search & Discovery, and Clinical Trials Searcher. We also threw in some IE11 compatibility improvements.
Gadget Enhancements
COVID-19 Research Viewer Gadget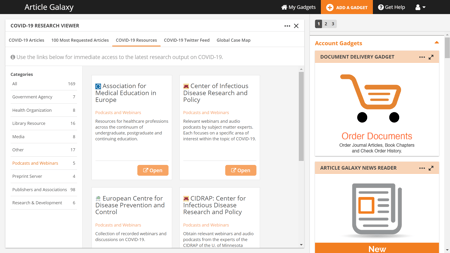 The COVID-19 Articles tab was completely rebuilt to use LitCovid as the data source and also provide many new features:

A chart to visualize COVID-19 articles published by week or month.
A map showing COVID-19 articles published by country.
Article filtering by category and country.
Article search by author, abstract, or title.
Inclusion of article keywords.

The Publisher COVID-19 Sites tab was completely rebuilt with an expanded scope and new features and was renamed COVID-19 Resources.

Resources are now curated and updated frequently by on-staff scientists to make new, valuable resources available in the Gadget quickly.
A new UI allows browsing by category: Publishers & Associations, Preprint Servers, Health Organizations, Podcasts & Webinars, etc.
A description is now provided for each resource.
Article Galaxy News Reader Gadget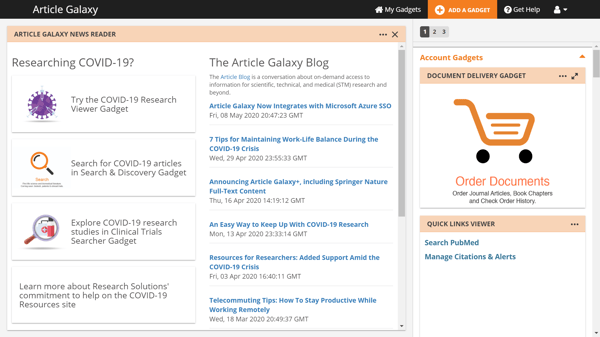 Convenient buttons have been added to this popular Gadget to provide one-click access to many of Article Galaxy's COVID-19 resources:
Search & Discovery & Clinical Trials Searcher Gadgets
Both Gadgets now support deep link searching as demonstrated by the Article Galaxy News Reader links. If you'd like to build your own links (say, to share with colleagues) that open these Gadgets and run a query, here's the syntax:

Search & Discovery: https://www.reprintsdesk.com/landing/gdl.aspx?gid=193&query=[YOUR_QUERY_HERE]
Clinical Trials Searcher: https://www.reprintsdesk.com/landing/gdl.aspx?gid=21&query=[YOUR_QUERY_HERE]

Clinical Trials Searcher also got some UI attention and now has an improved design.
Gadget Fixes
A handful of Gadgets got UI changes to improve compatibility with IE11:
Periodic Table Lookup
3D Protein Visualizer
Open FDA Finder
Sequence Literature Finder
Bibliogo Updates
Added support for multiple citation types -- book chapter, journal article, report -- and appropriate styling in the Word Add-in and when exporting citations.
A new rental awareness feature allows users to search or browse for articles rented by colleagues.
Some small UI/UX improvements.
Article Galaxy Widget Updates
Searches in the new version of PubMed can now be followed in Bibliogo in two clicks.
Added interoperability for the newly released Article Shelf Browser Gadget.
Added interoperability for Bibliogo's new rental awareness feature.