We are excited to announce the availability of the Article Shelf Browser in the Article Galaxy platform. Article Shelf is your single source for acquired scientific literature. It places all your legally acquired and re-usable PDF articles* in one location - enabling you to check copyright permissions and ensure you avoid paying for the same article twice. Also in this release: improvements of the COVID-19 Research Viewer.
*In line with Reproductive Rights Organizations (RROs) and Open Access license terms
New Gadget
Article Shelf Browser
Unsure whether you have the PDF article you need? Article Shelf Browser has you covered. The Gadget provides a single place to search and manage your legally acquired PDF articles and associated copyright permissions within Article Galaxy. Our technology incorporates your direct publisher agreements, Open Access content, and RRO licenses into copyright compliant workflows. In addition, Article Shelf Browser offers optional admin-level management capabilities, if desired. An Article Galaxy Enterprise subscription is required to optimally configure Article Shelf Browser. Our Implementations team will gladly assist you in setting up custom workflows, administrator-managed features , and your organization's rights advisory tools.
USER FEATURES:
Search by keyword(s) or DOI for the full-text PDF article
Download or request any PDF article related to a citation
Add citations from your search on 70+ discovery portals
Access your PDF library directly from anywhere in Article Galaxy
ADMIN FEATURES:
Manage and edit citations and full-text PDFs
Control inclusion of PDF articles in Article Galaxy
Manage user visibility of PDF articles via citation metadata
Maintain and enable your organization's rights management options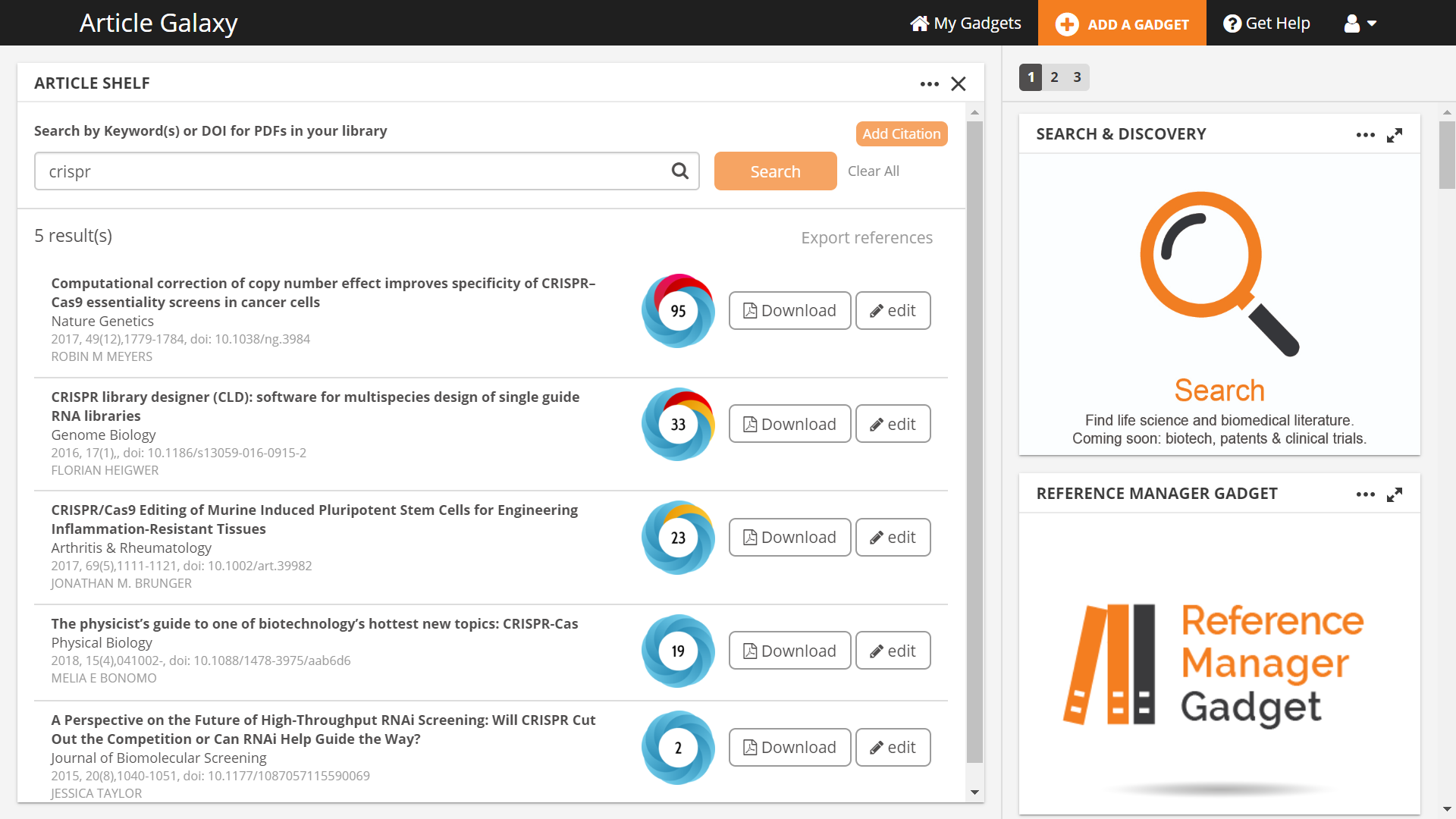 Article Shelf Browser - Admin View
Gadget Enhancements
COVID-19 Research Viewer
We have added a curated COVID-19 Twitter feed from verified scientist accounts and reputable news outlets and institutions to the Gadget.