New Gadget
COVID-19 Research Viewer Gadget
There are already close to 2,000 scientific articles tagged to COVID-19, and this literature is expected to grow. This Gadget allows you to have these articles conveniently available in one place within the Article Galaxy platform.

The COVID-19 Gadget features an up-to-date, PubMed-based search to provide a preview of COVID-related articles, accompanied by an Altmetric Attention Score, helping users quickly assess the paper's popularity. The Gadget also includes an interactive Outbreak Map* that tracks the number of confirmed cases, deaths, and recoveries around the world. Users can simply click on the map to see the current statistics in the selected region.

​ Review and add Gadget to your dashboard.
Search literature based on a PubMed search with preset queries
Filter and sort results, and view abstracts
Access full-text articles, linked directly to the publisher website
View Altmetric Attention Score directly from search results
Send references to Reference Manager Gadget
Interactive incidence map of confirmed COVID-19 cases*
Coming soon: most downloaded, publisher resources and trending social media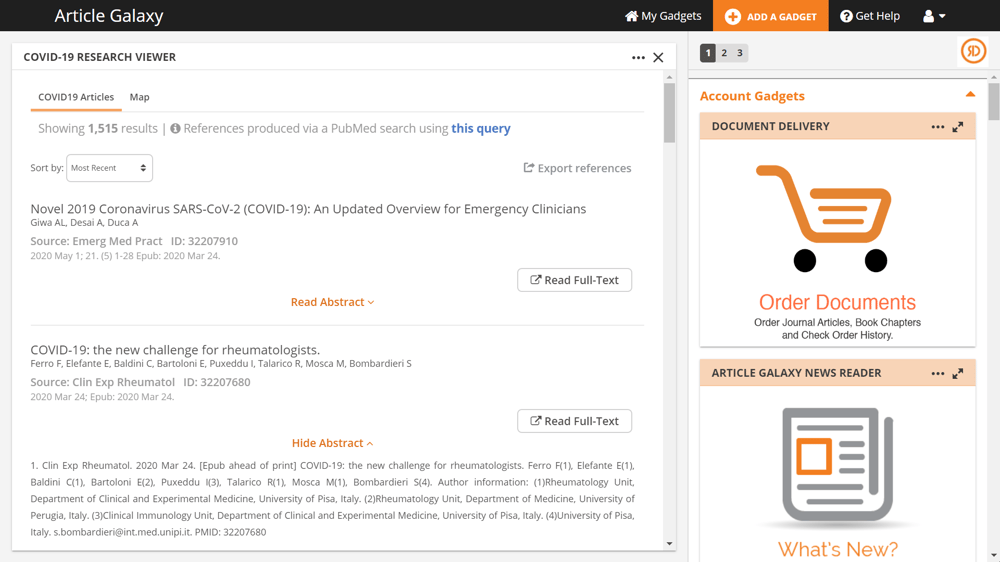 Article View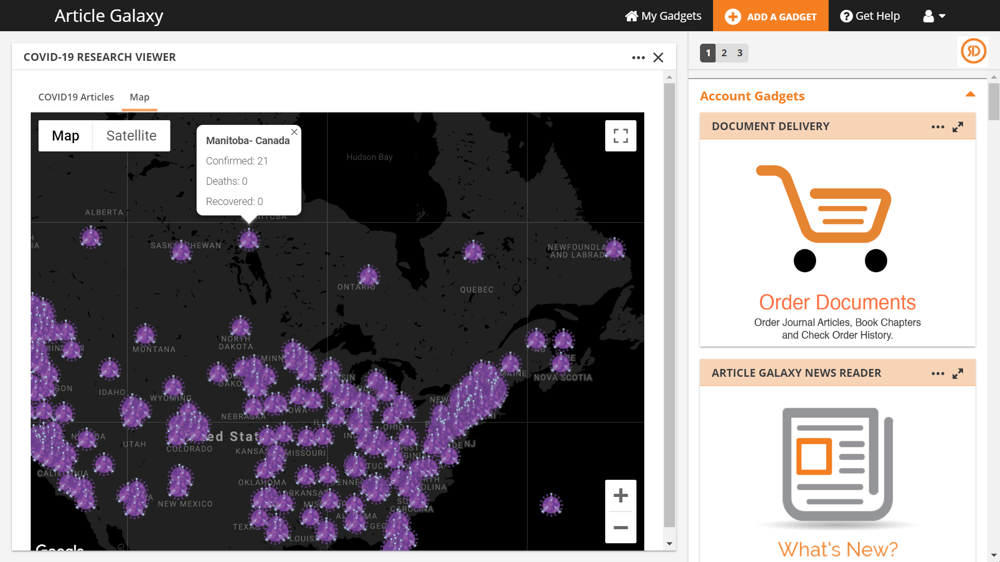 Map View
*Source: Johns Hopkins University, Center for Systems Science and Engineering (CSSE)
Gadget Enhancement
ELISA Concentration Calculator
The entire user interface was overhauled to provide a new and improved user experience and new data visualization features.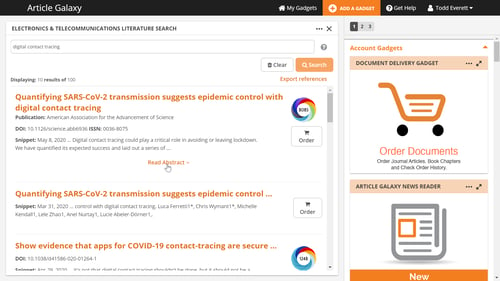 Gadget Fixes
The following Gadgets have been updated with cross browser fixes:
3D Protein Visualizer
Bioassay Searcher
Biomolecular Sequence Manager
Chemical Batch Mixing Calculator
Crypto Currency Exchange
DOI/PMID Article Finder
Lab Task Manager
My Links Manager
Oligos Designer
Periodic Table Lookup
Protocols Searcher
PubsHub Search Journal & Congress Submission
Reference Manager Gadget
Search Open FDA
Sticky Notes
Trace Sequencing Viewer
Wikipedia Searcher