This add-on offers patrons access to over 40,000 journal titles, as well as special copyright royalty rates and low delivery fees
Henderson, Nev., June 22, 2023 —  Research Solutions, Inc. (NASDAQ: RSSS), a pioneer in providing cloud-based workflow solutions for R&D driven organizations, is now available as a solution and a part of the Ex Libris resource-sharing ecosystem.
Rapido, Ex Libris' integrated resource-sharing system, is designed to fulfill interlibrary-loan requests in an unmediated way. In certain situations, such as when a library needs to comply with copyright regulations or if no institution holds the requested title, alternative methods for accessing resources beyond the traditional Rapido workflow may be necessary. By integrating Article Galaxy, Rapido and Research Solutions can provide mutual subscribers with a cost-effective way of obtaining hard-to-find titles.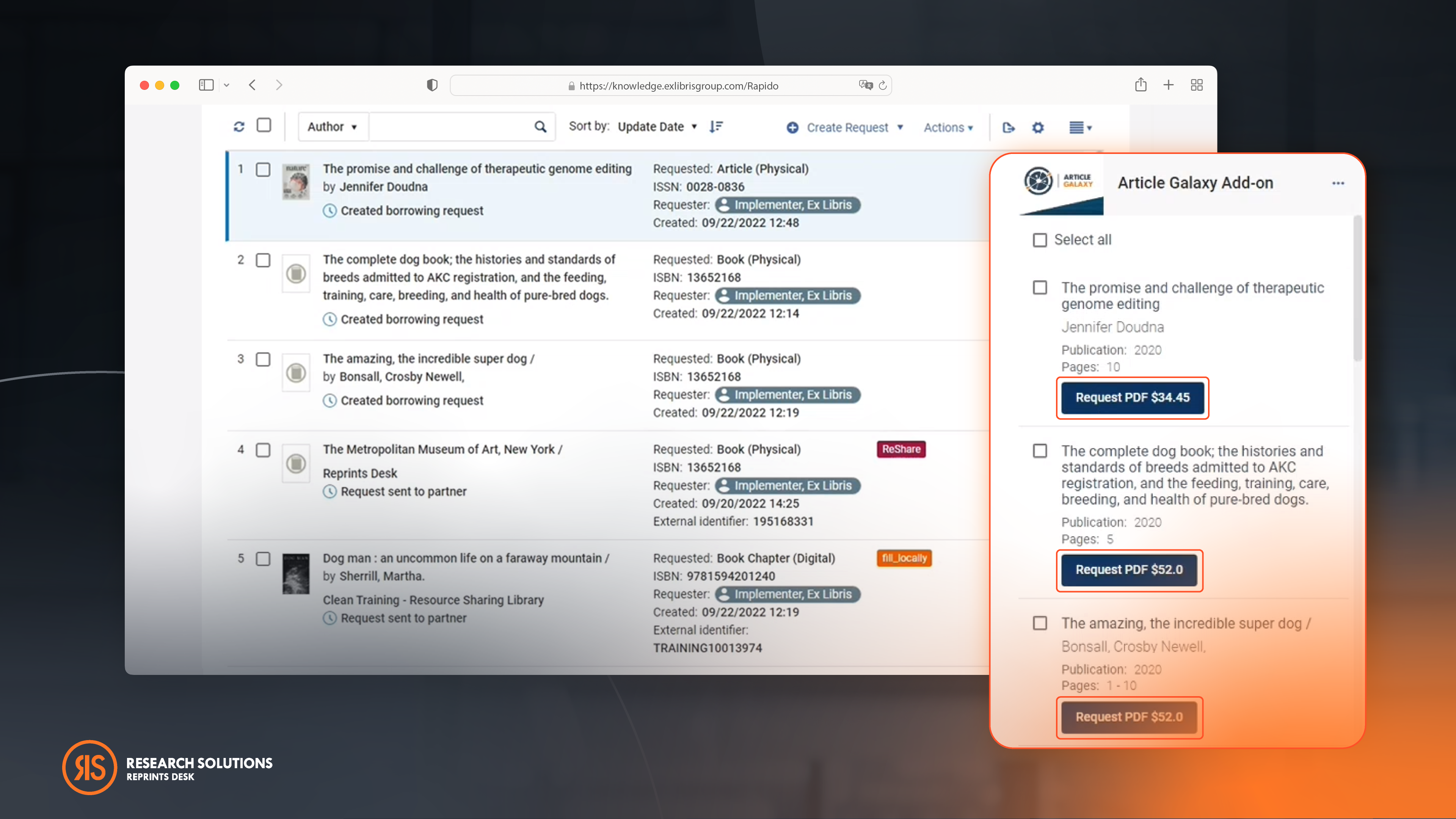 "The Article Galaxy add-on finally lets our library staff see copyright prices at the time of ordering and often gets the article to the patron within minutes," shares Christopher Lee, Resource Sharing Manager at California State University, Office of the Chancellor. "Setup is easy and straightforward."

"We are thrilled to partner with Rapido, a renowned leader in cutting-edge technology and commitment," adds Tony Landolt, Head of Academic Business Development at Research Solutions. "This collaboration combines our expertise, enabling us to deliver efficient article fulfillment solutions and provide unparalleled support to our clients' research initiatives. We eagerly anticipate the substantial benefits this partnership will bring."

Rapido's integration with Article Galaxy gives patrons access to additional chapters from nearly a million books and articles from over 40,000 journals from all major publishers.

Rapido Libraries subscribed to Research Solutions can now easily leverage the new Article Galaxy integration. This integration seamlessly enables the Article Galaxy cloud app with straightforward functionality, providing pricing information and simplifying the acquisition of articles. The Article Galaxy cloud app streamlines the entire application workflow, which saves libraries time and eliminates complexity. The acquisition process is transparent, and libraries have visibility into the process. Users receive the requested resources while closing the acquisition request, making everything automatic and effortless.

Get in touch with our Article Galaxy experts to learn all about Rapido and how to create your Article Galaxy account. Connect with us for more information.
About Research Solutions

Research Solutions, Inc. (NASDAQ: RSSS) provides cloud-based technologies to streamline the process of obtaining, managing, and creating intellectual property. Founded in 2006 as Reprints Desk, the company was a pioneer in developing solutions to serve researchers. Today, more than 70 percent of the top pharmaceutical companies, prestigious universities, and emerging businesses rely on Article Galaxy, the company's SaaS research platform, to streamline access to the latest scientific research and data with 24/7 customer support. For more information and details, please visit www.researchsolutions.com.
About Rapido

Rapido by Ex Libris, part of Clarivate, is a resource-sharing solution that acts as an extension of the library's collection: users can request titles in two clicks on the library's interface, without filling out any form. With Rapido's automation of the borrowing and lending processes, library staff manages a higher volume of requests with less effort.

About Ex Libris' Cloud Apps
Cloud apps are integrations into the Ex Libris solutions that leverage community collaboration and offer institutions a way to customize their Ex Libris products. Rapido members can take advantage of the Cloud Apps by installing them on their instance of Rapido.

Important Cautions Regarding Forward-Looking Statements

Certain statements in this press release may contain "forward-looking statements" regarding future events and our future results. All statements other than statements of historical facts are statements that could be deemed to be forward-looking statements. These statements are based on current expectations, estimates, forecasts, and projections about the markets in which we operate and the beliefs and assumptions of our management. Words such as "expects," "anticipates," "targets," "goals," "projects", "intends," "plans," "believes," "seeks," "estimates," "endeavors," "strives," "may," or variations of such words, and similar expressions are intended to identify such forward-looking statements. Readers are cautioned that these forward-looking statements are subject to a number of risks, uncertainties and assumptions that are difficult to predict, estimate or verify. Therefore, actual results may differ materially and adversely from those expressed in any forward-looking statements. Such risks and uncertainties include those factors described in the Company's most recent annual report on Form 10-K, as such may be amended or supplemented by subsequent quarterly reports on Form 10-Q, or other reports filed with the Securities and Exchange Commission. Examples of forward-looking statements in this release include statements regarding additional customers, potential acquisitions and the Company's prospects for growth, profitability, and cash flow. Readers are cautioned not to place undue reliance on these forward-looking statements. The forward-looking statements are made only as of the date hereof, and the Company undertakes no obligation to publicly release the result of any revisions to these forward-looking statements. For more information, please refer to the Company's filings with the Securities and Exchange Commission.

SOURCE Research Solutions, Inc.
Contact
Steven Hooser or John Beisler, IRC
Three Part Advisors
shooser@threepa.com
jbeisler@threepa.com
+1 (214) 872-2710