How To Reduce Article Spend and Get the Most Out of Your Research Budget

Research Solutions|Marketing Team
June 7, 2023
As a researcher, accessing scientific literature can be a frustrating and expensive endeavor; and the ongoing debate surrounding Open Access, paywalls, and pirated content only adds to the complexity.
However, there are simple solutions that can help you and your organization get the most value from peer-reviewed literature. Below, we take a step back to share key tips for leveraging top-quality research resources and maximizing the value of scientific literature by saving time and cutting costs.
Reducing Average Article Cost
In order to reduce expenditure on literature acquisition, it is important to strike the right balance amongst publisher subscriptions, token packages, open access, individual article purchases, and article rentals.

This visualization outlines how we process orders as they come in with the intent of saving our users money and time. Looking at this as a funnel, we can imagine we're putting in our article requests up at the top. These top filters are ways we deliver the article to our users free of charge.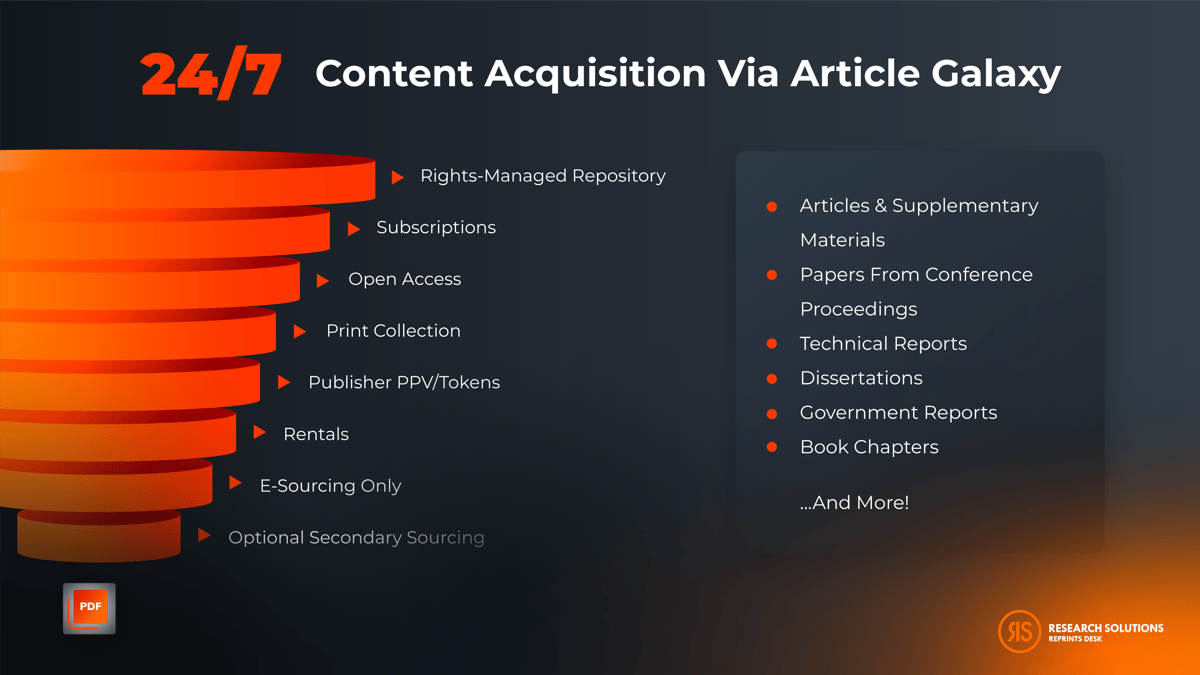 Rights-Managed Repository

We start off by checking to see if your request is going to be held in the Rights-Managed Repository. This is the company-wide PDF Library, where we put a copy of each article that is purchased and delivered into this repository. This way, if the original requester, or anyone else in the organization, comes and tries to get a copy of that same article, it will be delivered free of charge to avoid duplicate purchasing and unnecessary spending.

Company-Wide Subscriptions

We then ensure that all Company-Wide Subscriptions are effectively leveraged. This involves directing users to the appropriate subscriptions when they request an item held within those resources in order to fully optimize an organization's subscription utilization.

Open Access Filter

We also have an Open Access Filter to make sure that we're delivering items that are available via Open Access free of charge and confirming that those items are clear for use in a commercial environment. Therefore, users are not only getting a requested article free of charge via Open Access, but they're also ensuring copyright compliance for their organization.

In-House Print Collections

Next, we take a look at In-House Print Collections. This means, if a user has an in-house library of journal titles or books, we take those holdings and, if a requested piece of content can be located within that library, we make sure that the item is retrieved from that collection instead of being purchased separately and incurring additional expenditure.

Company-Wide Publisher Tokens

We also take into consideration any Company-Wide Publisher Tokens. These tokens, like subscriptions, offer additional protection to users, ensuring they can access and obtain articles that are a part of administrators' purchase bundles or packages without having to purchase them, thus saving more of users' departmental budget.

Rentals

If an article cannot be accessed through subscription or open access, there is no need to hastily buy it. Renting the article is an excellent alternative, allowing you to evaluate it as a scholarly paper prior to investing in a complete purchase. We offer a rental option which grants read-only access to articles for a limited time period at a reduced cost.

E-Sourcing

Our E-Sourcing option allows for smoother delivery of material found in our publisher supply databases. This swift delivery can be accessed by the user with ease, as the materials are immediately available within their web browser.

Optional Secondary Sourcing

Our secondary sourcing options excel at providing access to older or niche titles that are hard to come by. These valuable resources may require the use of a third-party vendor or a visit to a specialized library collection.
Retrieving Any Informational Asset You Need
Don't let acquisition costs eat up your research budget. We understand the importance of receiving the materials you need without breaking the bank. That's why we offer a range of cost-effective methods for obtaining various types of publicly available documents - including articles, books, conference proceedings, journals, and more.

With our services, you can rest assured that you'll have access to all the necessary documents for your research needs. Say goodbye to squandered acquisition costs and hello to a more efficient and budget-friendly research process.
Article Galaxy: Your Go-To Source for Accessing Content
As an existing customer interested in exploring or learning more about our impressive features, don't hesitate to contact your Account Manager directly. If you're unsure who that is, reach out to our customer support team at customersupport@reprintsdesk.com and we'll be happy to point you in the right direction. For those who have yet to join us, we invite you to take advantage of our free trial and book a demo. Don't miss out on learning all that we have to offer!