We are excited to share new features and updates to Curedatis, our SaaS solution designed to simplify the literature review workflow for medical writers and regulatory professionals. This innovative platform offers fast article screening, streamlined regulatory compliance, and intelligent documentation, complete with audit trails. With Curedatis, medical device companies can enhance their clinical evaluation process and achieve better outcomes.

Curedatis is a web-based platform that empowers users to search, discover, and manage clinical evidence easily and efficiently. Our platform features an advanced AI engine that automatically identifies key information such as PICO terms and generates standardized outputs including PRISMA flow diagrams and critical appraisals. Speeding up the literature review process has never been easier.
No More "Copy & Paste" Between Spreadsheets - Start Discovering Relevant Information with Curedatis

Say Goodbye to Irrelevant Data with AI-Powered PICO Label Recognition
Our advanced AI engine identifies PICO terms to provide an ultra-fast screening process on our platform. With customized search criteria and PICO label recognition, you receive only the relevant information. No more time wasted on irrelevant content.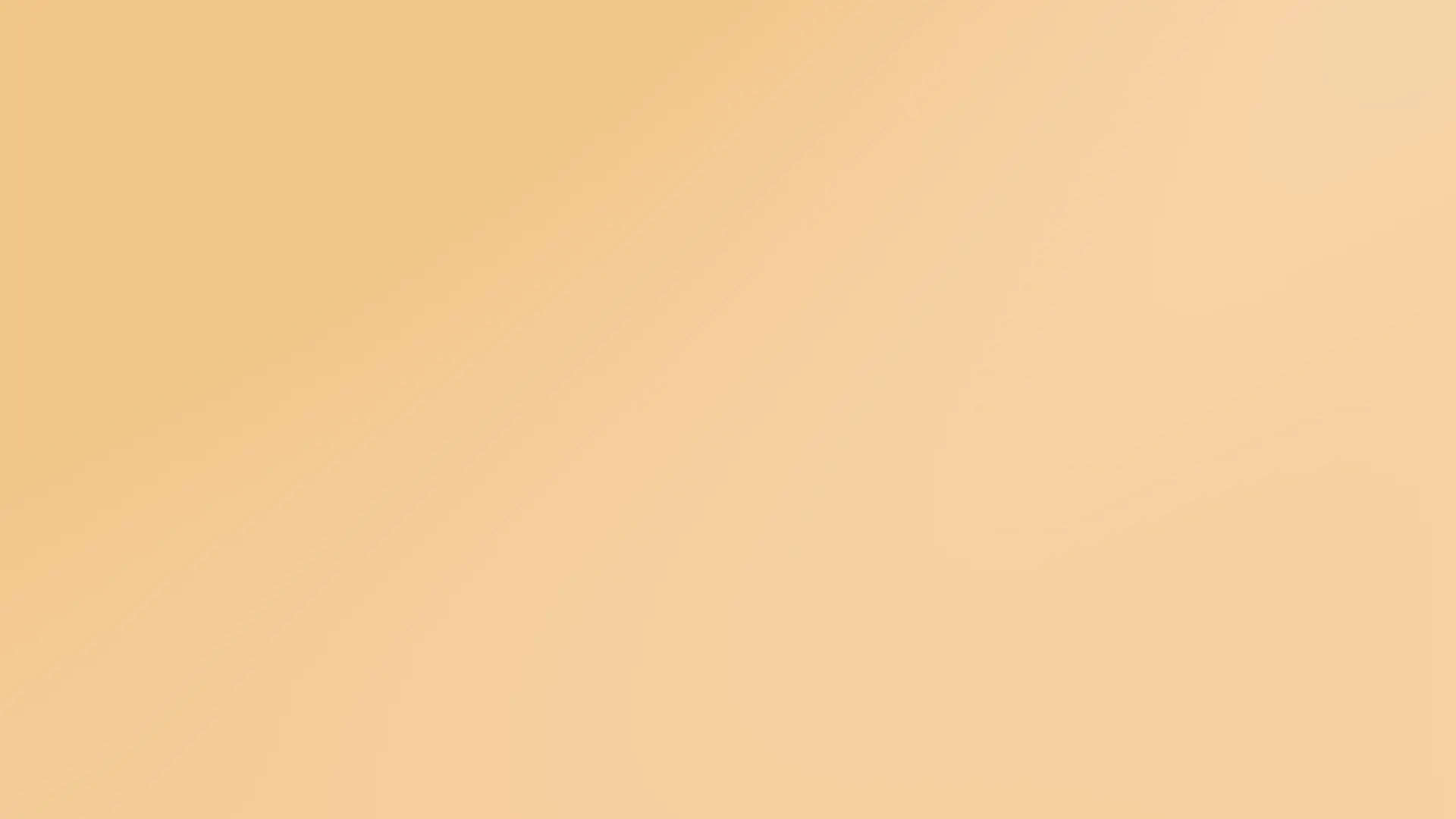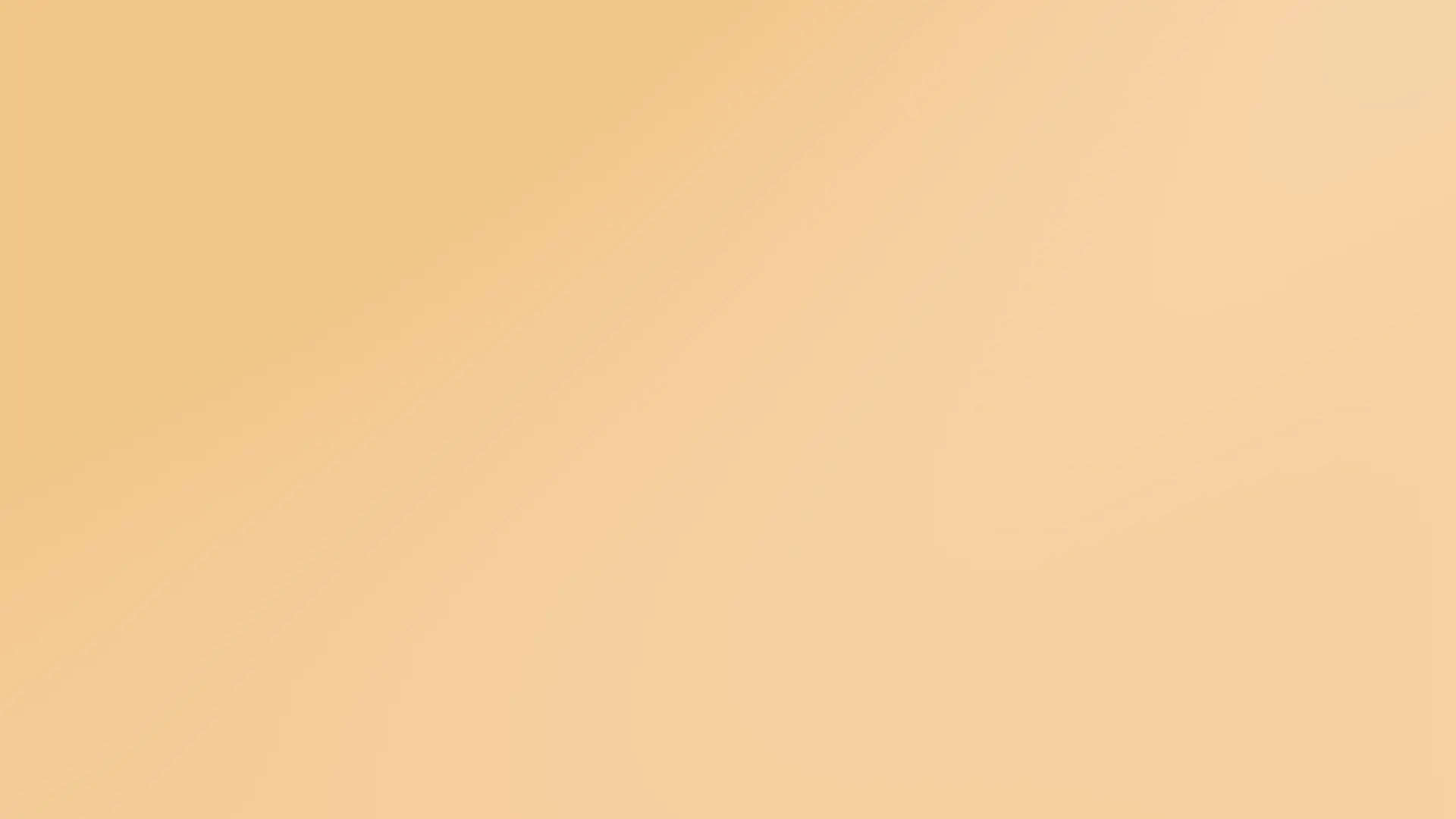 Collaboration Just Got Easier
Invite fellow account holders to work with you on your projects, with options to grant edit or view-only rights. You can easily keep track of who has what roles through the intuitive "My Library" project icon. And in case you forgot to invite someone during setup, editors can add collaborators at any point during the project. Let's work together seamlessly with Curedatis.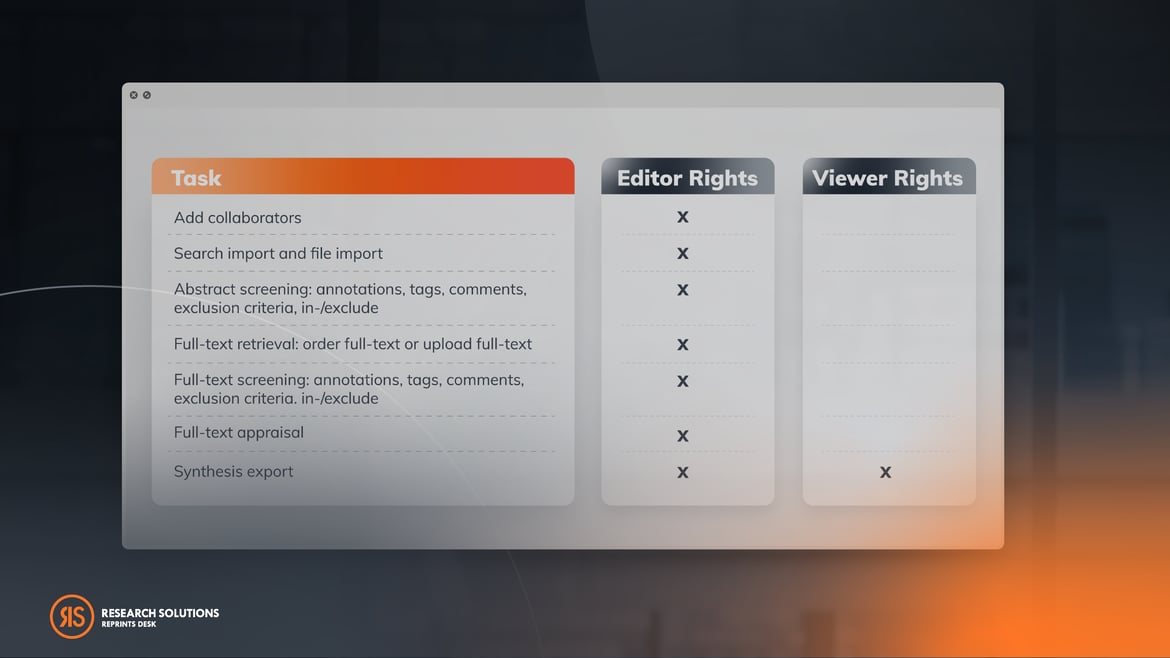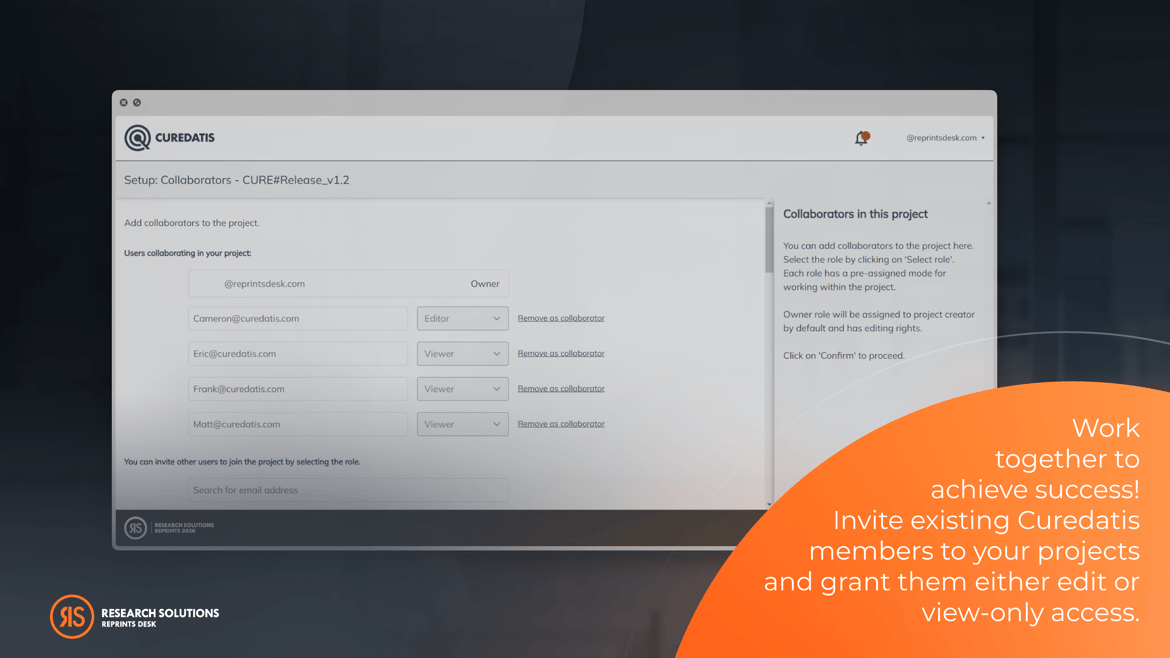 Efficiently Organize Your Projects with Enhanced Sorting
Manage your projects by sorting them by date and role. This will enable you to prioritize the most important work at the time when it matters most. Streamline your workflow and increase your productivity with this essential project management tool.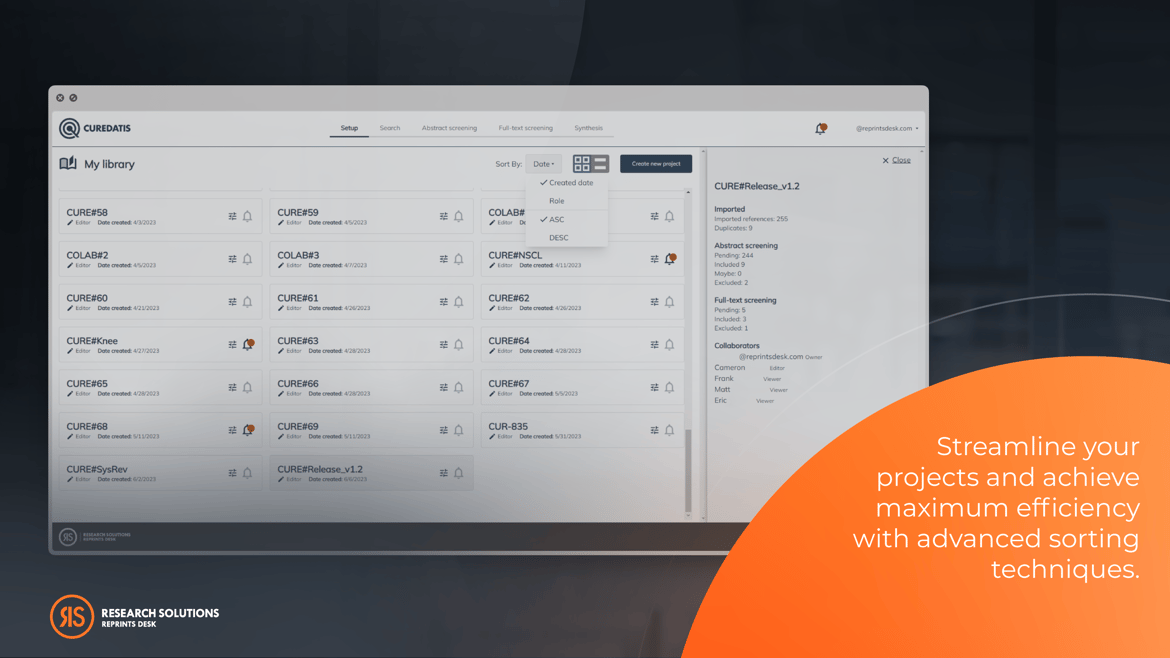 Easily Customize Labels in Your Library with Editable Dictionaries
You can upload customized dictionaries based on existing ontologies (e.g., study designs). Keywords in the dictionaries are highlighted while you perform the screening to support the screening and extraction processes. Revise and refine your label settings with ease. Simply access the project setup icon located in your library to edit your selected dictionaries. Effortlessly download existing dictionaries to simplify the process even further.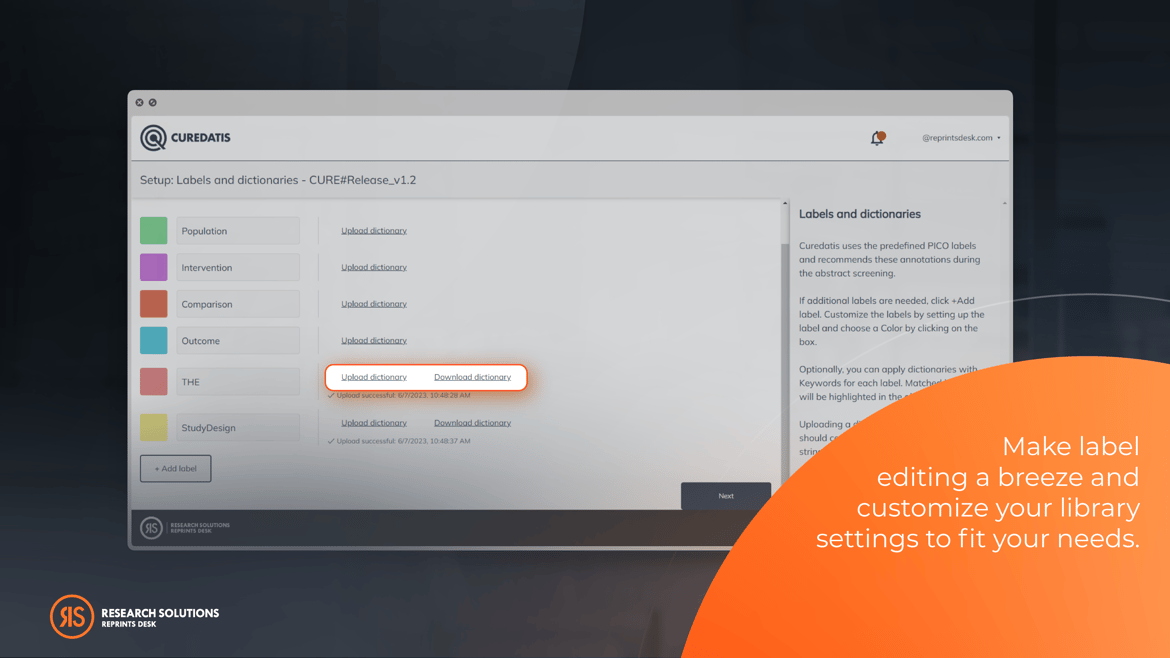 Automatically Generate and Export PRISMA Flow Diagrams
Our PRISMA Flow Diagram now includes the search database or import source type for increased transparency. Keep track of the total number of records identified both before and after the automatic removal of records. Plus, easily spot exclusion reasons with our enhanced abstract screening feature. Unlock the power of compliant and efficient analysis today.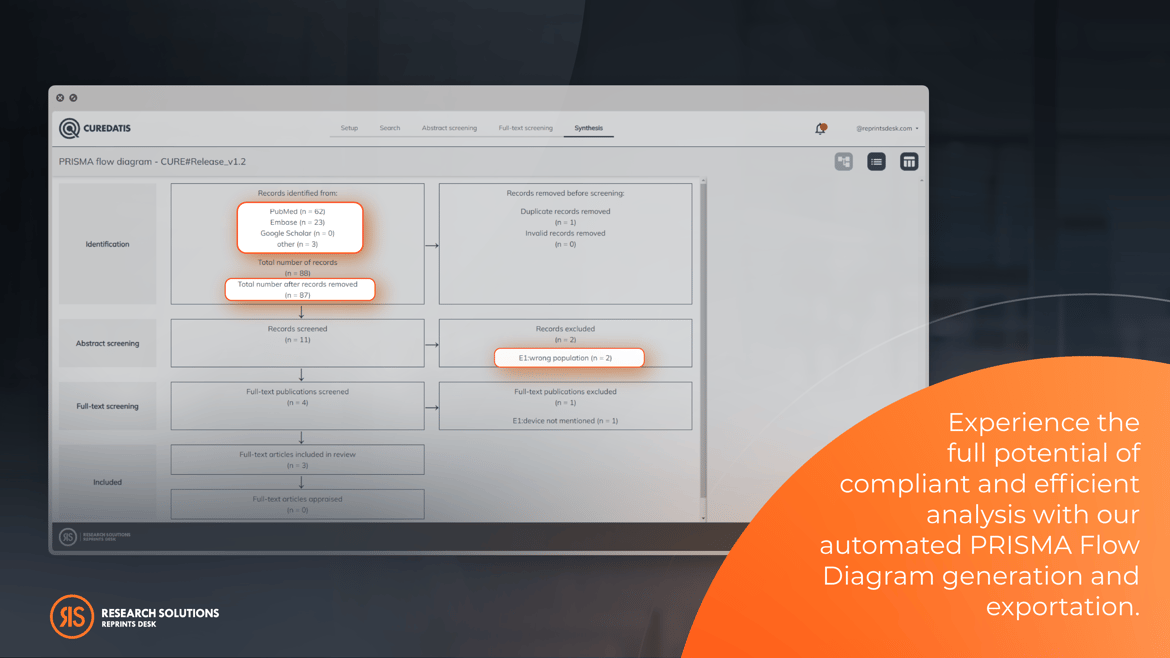 What's On the Horizon?
Greater Flexibility and Organization with Project Archive Feature
Exciting news! A significant upgrade is on the horizon. Our upcoming project archive feature will allow you to easily archive your projects in "My Library." Make sure you stay tuned for more information. Don't miss out on this opportunity to streamline your project management experience!
Unlock the Full Potential of Our Latest Enhancements
As experts in systematic literature reviews and clinical evaluations, we know that each organization has unique needs. With Curedatis, you can harness all the capabilities you need to succeed. Let us guide you through our powerful tools and features in a personalized demo. Book a demo today and get all your questions answered. Elevate your regulatory decision making with confidence and ease.