Our Research Solutions Team is passionate about providing an incomparable experience to our customers. With a constantly evolving platform, we promote empowerment and efficiency so that any challenge can be conquered with ease! We are devoted to helping you reach your goals speedily — maximizing potential effortlessly!
Streamline Your Research & Information Gathering Process

Our New RSS Feed Reader: Keeping You Updated with New Literature
Have it all at a glance - no more searching high and low for literature.
We've unlocked an entirely new way of exploring articles with our RSS Feed Reader integrated into Article Galaxy References. With just a few clicks of the mouse, you can now discover exciting content each day and order articles directly from the RSS reader!

Other functionalities include:
• Add/Edit RSS Feeds
• "Mark As Unread" Individual Feed Items
• On-Demand Refresh of Data Feed
• View Feeds in Grid style layout & Check the Article Details with a Single Click
• Drag & Drop citations from Feeds to Personal & Shared Folders Search Within the RSS Feed for Keywords, Authors & more...
• "Copy" Citation Information to Clipboard
• Check article Re-Use Rights directly from a Feed
• Show Total Number of Items within the selected RSS Feed
Through the Article Galaxy Feed Reader, get access to countless insights from PubMed, individual publisher sites and more - a veritable library at your fingertips! This RSS Reader is a game changer when it comes to discovering fascinating facts in the literary universe.
Note: Currently, the RSS Feed Reader will be available as part of Article Galaxy Professional users only.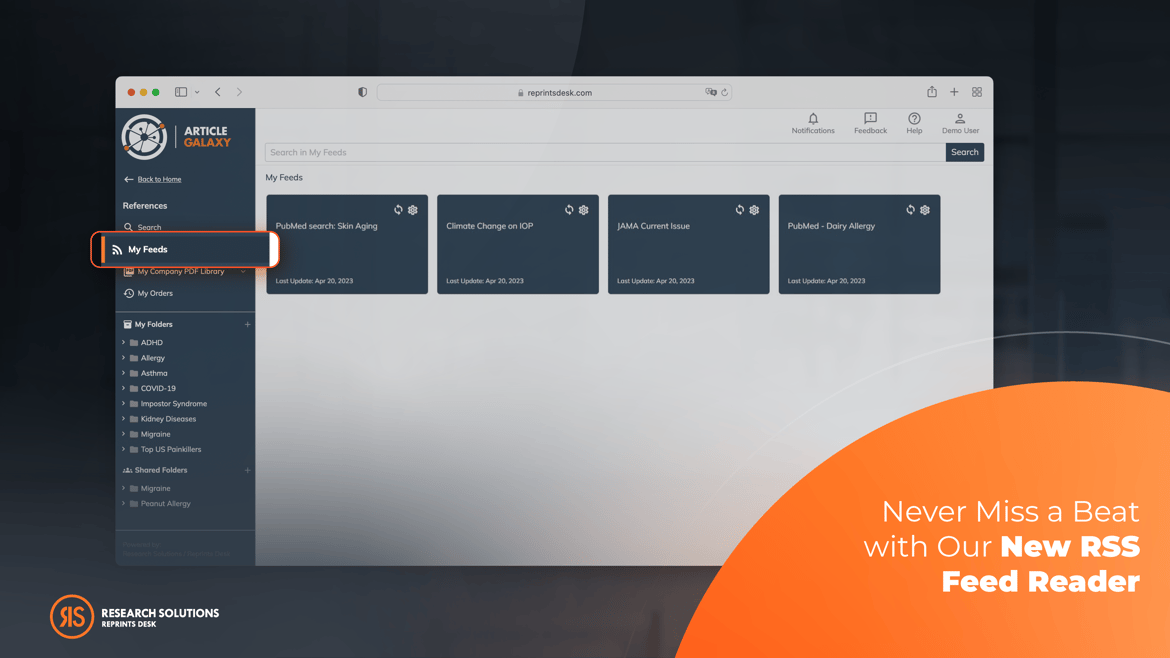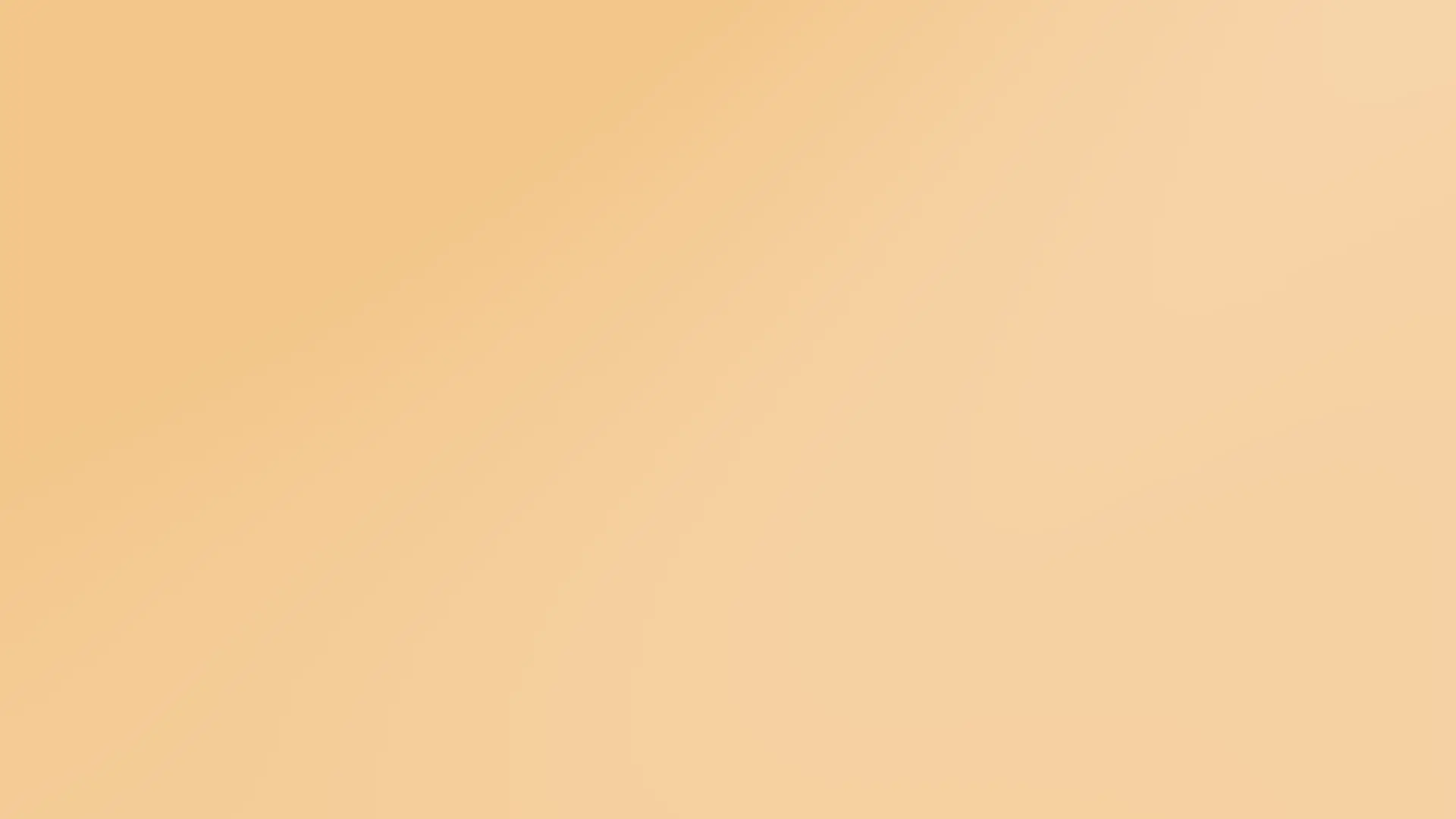 Your Article Galaxy Dashboard Just Got Bigger & Better
We've gone ahead and expanded the Resource Section within your Article Galaxy dashboard. Available upon request, you now have several extra tools at your disposal for focused, methodical researching. The new resource icons include: RefWorks, Citavi, Martindale, Martindale ADR Checker, Pharmaceutical Excipients, Stockleys, and ToxPlanet.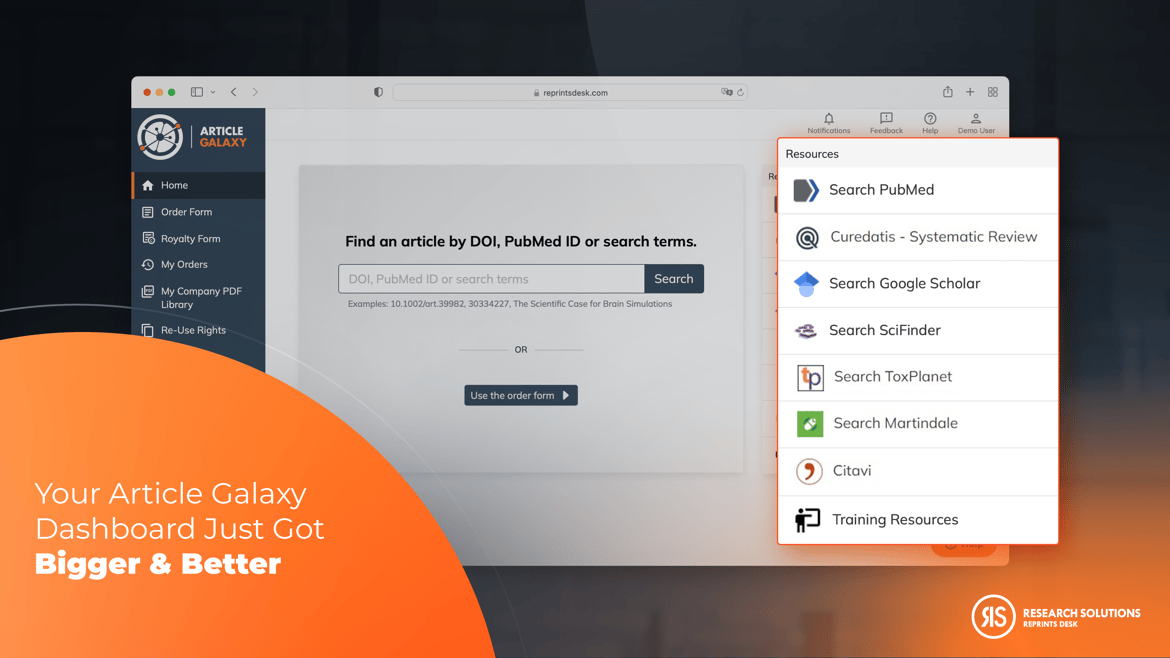 We're Always Listening: Feedback Helps Us Constantly Evolve & Advance Our Product Vision
Author Sourcing Is a Breeze with Article Galaxy Author Information Display
We've made great strides in streamlining author information within Article Galaxy. Gone are the days of confusing, inconsistent, or incomplete author information that slowed down your productivity. With our most recent advancements, you will see that we have standardized how we show author information and we have worked very hard to get the most complete author details for citations in Article Galaxy. We are thrilled to offer a more efficient and user-friendly experience, allowing you more time to focus on the content itself.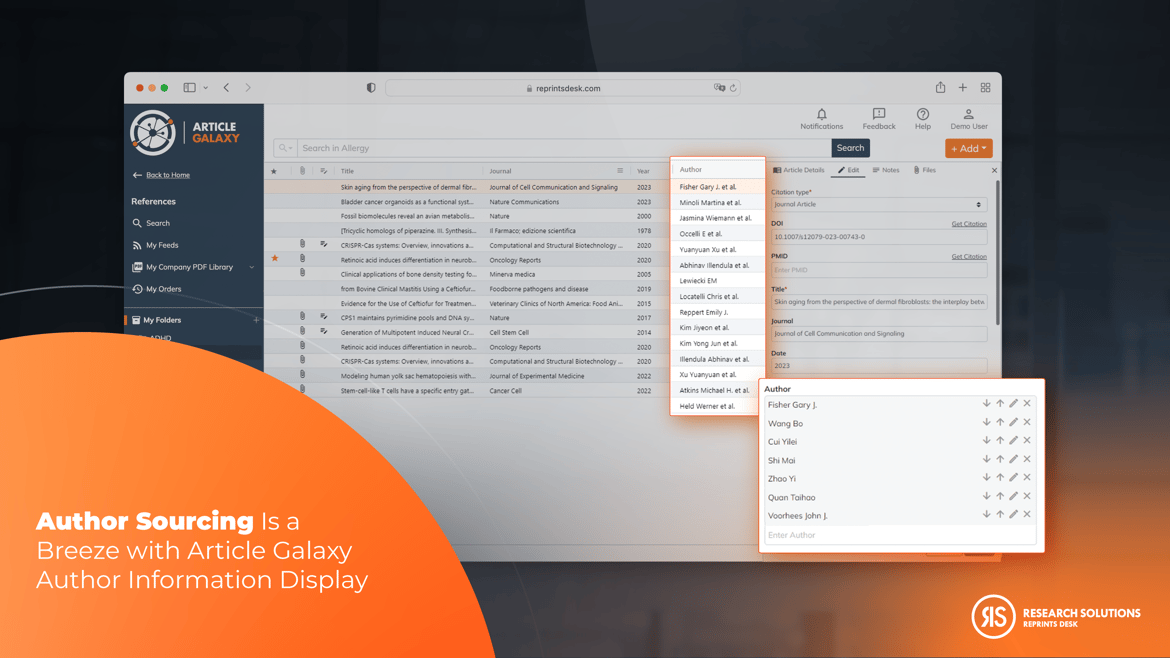 Revisit Your Past Searches with Just One Click
We've made searching within Article Galaxy and Article Galaxy even more convenient by allowing users to access their last 10 search queries through a timesaving drop-down menu. No longer will history be lost in the ether - with our innovative new feature, your browser does all the work for you, by remembering previous searches in Article Galaxy! Make your searches faster and save precious time using these easy search shortcuts: it's just that simple!
Note: As this is a browser-based feature, clearing your browser's cache and/or browsing history will clear all your previous searches.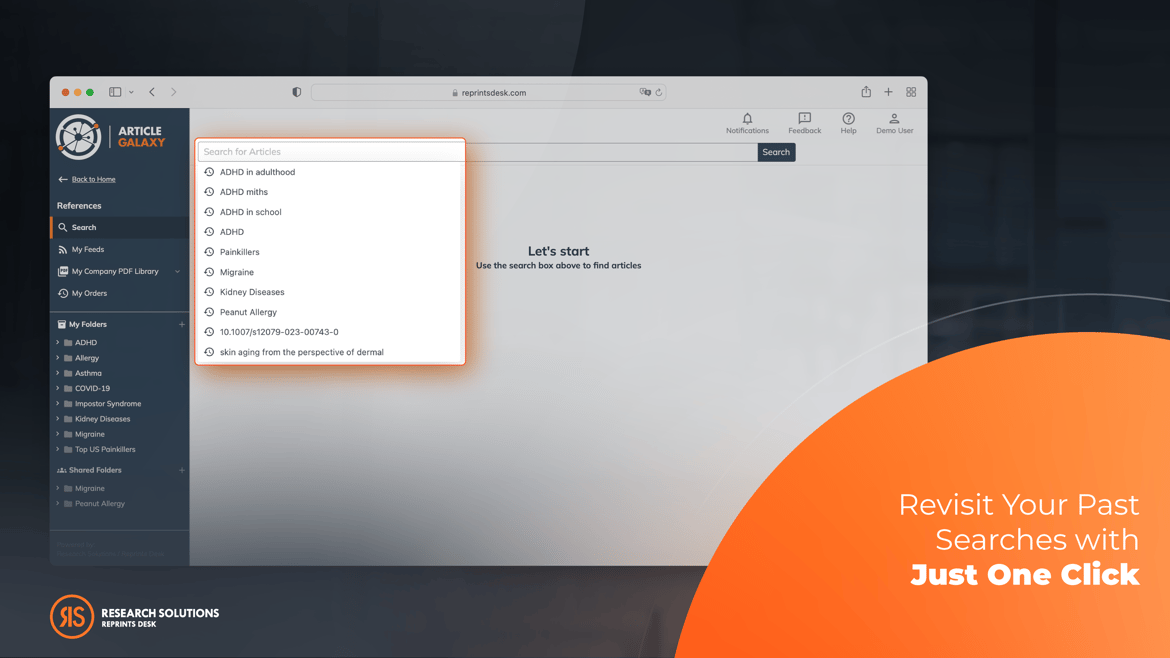 A Better, More Standardized Author-Related Experience in Article Galaxy References
Our ongoing commitment to providing the best user experience has resulted in yet another big improvement for Article Galaxy References - the standardized display of author information! Now, author information will be displayed in all sections as LASTNAME FIRSTNAME when that citation has been automatically referenced with either DOI and/or PMID. With this exciting improvement came easier scanning of reference lists and quicker navigation between articles – making your research journey that much smoother.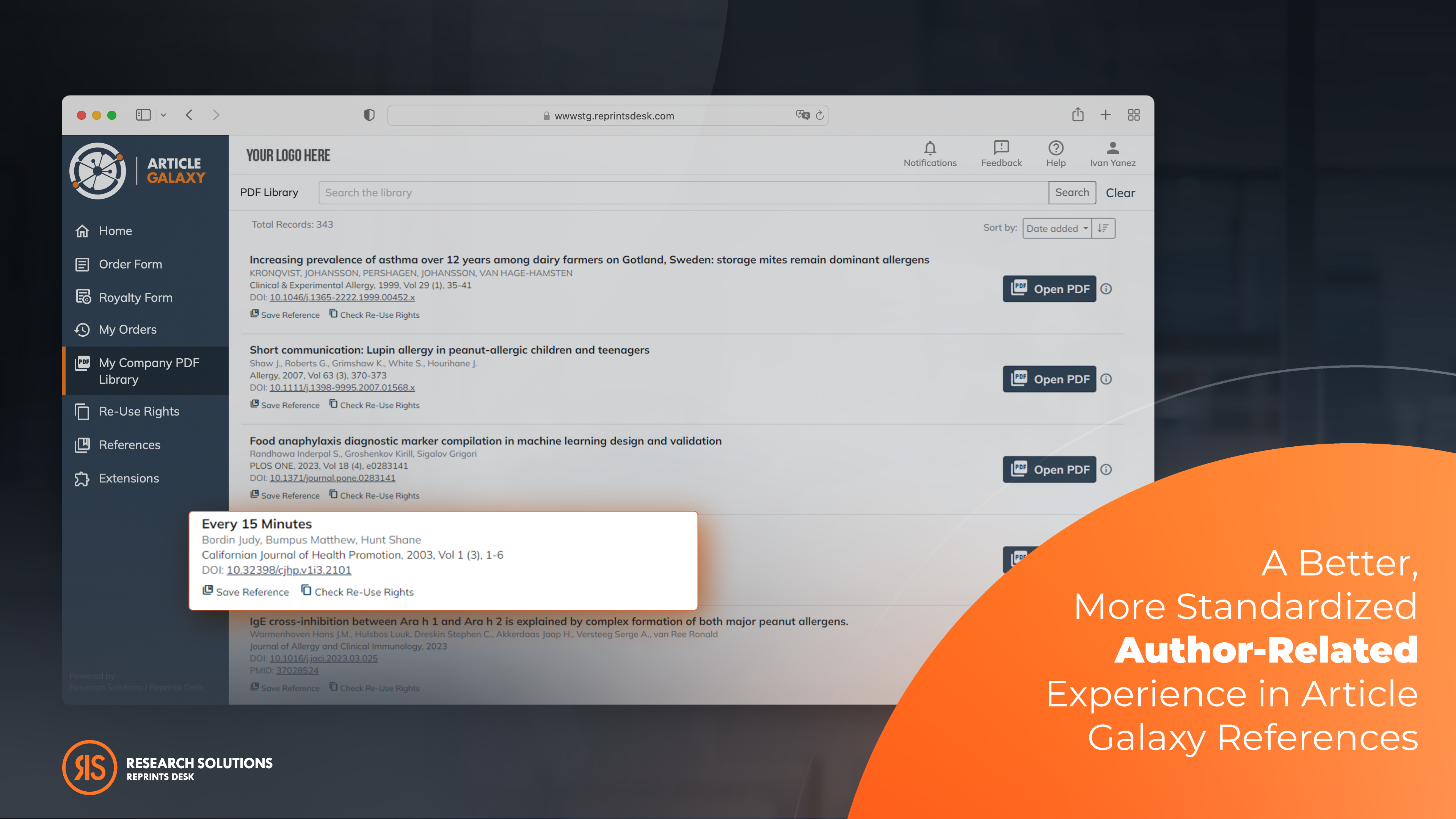 What's On the Horizon?
Integrated Article Recommendations & Summaries Powered by AI
Prepare for a revolution in knowledge-seeking! We've got some awesome upgrades planned that will leverage an AI-driven algorithm to help you discover the most relevant scientific content faster and easier than ever! When looking at citations, our platform will automatically make recommendations and provide easy to understand summaries for quick, easy exploration.
Experience All That Our New Features Have to Offer
Ready to take full advantage of all these research capabilities? Let one of our experts show you what Article Galaxy has in store! Make sure all your questions are answered by booking a demo today - it's never been easier for you to rise above and beyond with any project.