Document delivery addon for academic libraries supplements interlibrary loan with reduced copyright royalty rates for fast delivery of full-text research papers in native PDF format
Los Angeles, Calif., March 31, 2014 – Reprints Desk, a wholly-owned subsidiary of Research Solutions, Inc. (RSSS), today announced that the company's A-Z Academic DocDel Collection to supplement interlibrary loan (ILL) is now available as an "Addon" to Atlas systems' ILLiad resource sharing management software that is distributed exclusively by OCLC Online Computer Library Center, Inc. The addon can be freely downloaded online at prometheus.atlas-sys.com/display/ILLiadAddons/A-Z+DocDel+by+Reprints+Desk.
The new Reprints Desk addon, a feature of its article supply platform Article Galaxy, provides academic libraries with easy access to document delivery services within their workflow, featuring:
Ordering of full-text research papers that are available at reduced copyright royalty rates and in native PDF format
Price-by-article lookups with a clear breakout of each cost component
A browsable list comprised of more than thousands of publications and book chapters from participating publishers and publications
24/7 document delivery fulfillment and customer support
Plus expanded sourcing capabilities for the legal acquisition of content outside of the collection
"Reprints Desk is pleased to have our new document delivery add-on available within the ILLiad Addons Directory in order to meet the demand from our growing base of academic customers," said Chief Operations Officer Scott Ahlberg. "This integration improves access and helps academic libraries to make better collection management decisions, in particular to aid decisions for knowing when to convert from document delivery to subscription-based access."
A-Z Academic Document Delivery Collection features high quality PDF delivery within minutes for each request that Reprints Desk receives. The service is available to academic research institutions for a low transactional service fee plus a special academic copyright royalty charge that can be as low as fifteen U.S. dollars.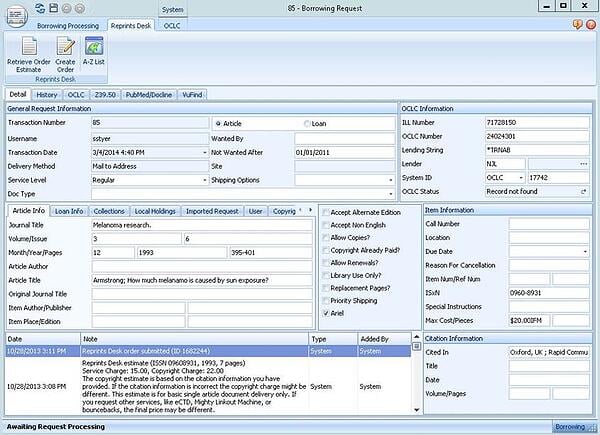 Academic institutions, corporations, and government organizations use document delivery as a legal method for retrieving single copies of full-text papers from scholarly peer-reviewed journals when subscription access does not exist. Reprints Desk has held lone honors as the top-rated document delivery supplier in every document delivery market research survey conducted by information analyst and advisory firm Outsell, Inc., since 2008. Reprints Desk was founded by Peter Derycz, a pioneer in the document delivery business since 1987 when he originally founded Infotrieve, Inc.
For more information about Reprints Desk, visit www.reprintsdesk.com. For more information about the A-Z Academic DocDel Collection addon for ILLiad, visit prometheus.atlas-sys.com/display/ILLiadAddons/A-Z+DocDel+by+Reprints+Desk.
About Reprints Desk®
Reprints Desk improves how journal articles and clinical reprints are accessed, procured, and legally used in evidence-based promotions, medical affairs, and scientific, technical, and medical (STM) research. Organizations fueled by intellectual property (IP) choose Reprints Desk because of its collaborative business approach, efficient article supply system and services, and commitment to quality post-sales support. Reprints Desk has ranked #1 in the every Document Delivery Vendor Scorecard from industry analyst and advisory firm Outsell Inc. since 2008. Reprints Desk is a wholly owned subsidiary of Research Solutions, Inc. (RSSS).
About OCLC®
Founded in 1967, OCLC is a nonprofit, membership, computer library service and research organization dedicated to the public purposes of furthering access to the world's information and reducing library costs. More than 74,000 libraries in 170 countries have used OCLC services to locate, acquire, catalog, lend, preserve and manage library materials. Researchers, students, faculty, scholars, professional librarians and other information seekers use OCLC services to obtain bibliographic, abstract and full-text information when and where they need it. OCLC and its member libraries cooperatively produce and maintain WorldCat, the world's largest online database for discovery of library resources. Search WorldCat.org on the Web. For more information, visit the OCLC website.
Forward-Looking Statements
Certain matters discussed in this press release may be forward-looking statements. Such matters involve risks and uncertainties that may cause actual results to differ materially, including the following: changes in economic conditions; general competitive factors; acceptance of the Company's products in the market; the Company's success in obtaining new customers; the Company's success in technology and product development; the Company's ability to execute its business model and strategic plans; the Company's success in integrating acquired entities and assets, and all the risks and related information described from time to time in the Company's filings with the Securities and Exchange Commission ("SEC"), including the financial statements and related information contained in the Company's Annual Report on Form 10-K and interim Quarterly Reports on Form 10-Q.