New License Plus Document Delivery Tool Gives the NHS Copyright-Compliant Access to Scientific Journal Articles On-Demand
LONDON, U.K. and ENCINO, Calif., 28 May, 2020 — Research Solutions, Inc. (NASDAQ: RSSS), a pioneer in providing cloud-based workflow solutions for R&D driven organizations, its wholly owned subsidiary Reprints Desk, and the Copyright Licensing Agency (CLA) jointly announced the release of License Plus Document Delivery, a digital tool for the acquisition of scientific literature and verification of associated copyright permissions designed for the UK National Health Service (NHS).
CLA's License Plus Document Delivery tool offers NHS users a quicker and easier way to order and retrieve scientific journal articles from Research Solutions and the British Library, along with a central searchable repository of all content ordered under NHS's CLA License Plus service.
"Through its Article Galaxy platform, Research Solutions was already providing easy order options and a central content library to its customers, making them the ideal partner for developing this tool," says James Bennett, CLA Head of Rights & Licensing. "We are delighted to be able to introduce this new service, which adds tangible value and streamlines healthcare provision for NHS bodies."
License Plus Document Delivery gives NHS scientists and health practitioners at all NHS locations streamlined access to medical research in digital formats. Key features include:
Fast, automated access to a journal article's version of record
Custom branding with built-in copyright compliance mechanisms
Pre-configured indicators showing availability of articles
Integration of CLA license terms with service components
Full usage and content reporting for journal articles accessed
"We are honored to partner with CLA to increase research efficiency across the UK's largest health and hospital system," says Scott Ahlberg, Chief Operations Officer at Research Solutions. "With License Plus Document Delivery, NHS users can spend less time on literature acquisition tasks and more time on what matters most to their patients: invaluable health research and discovery."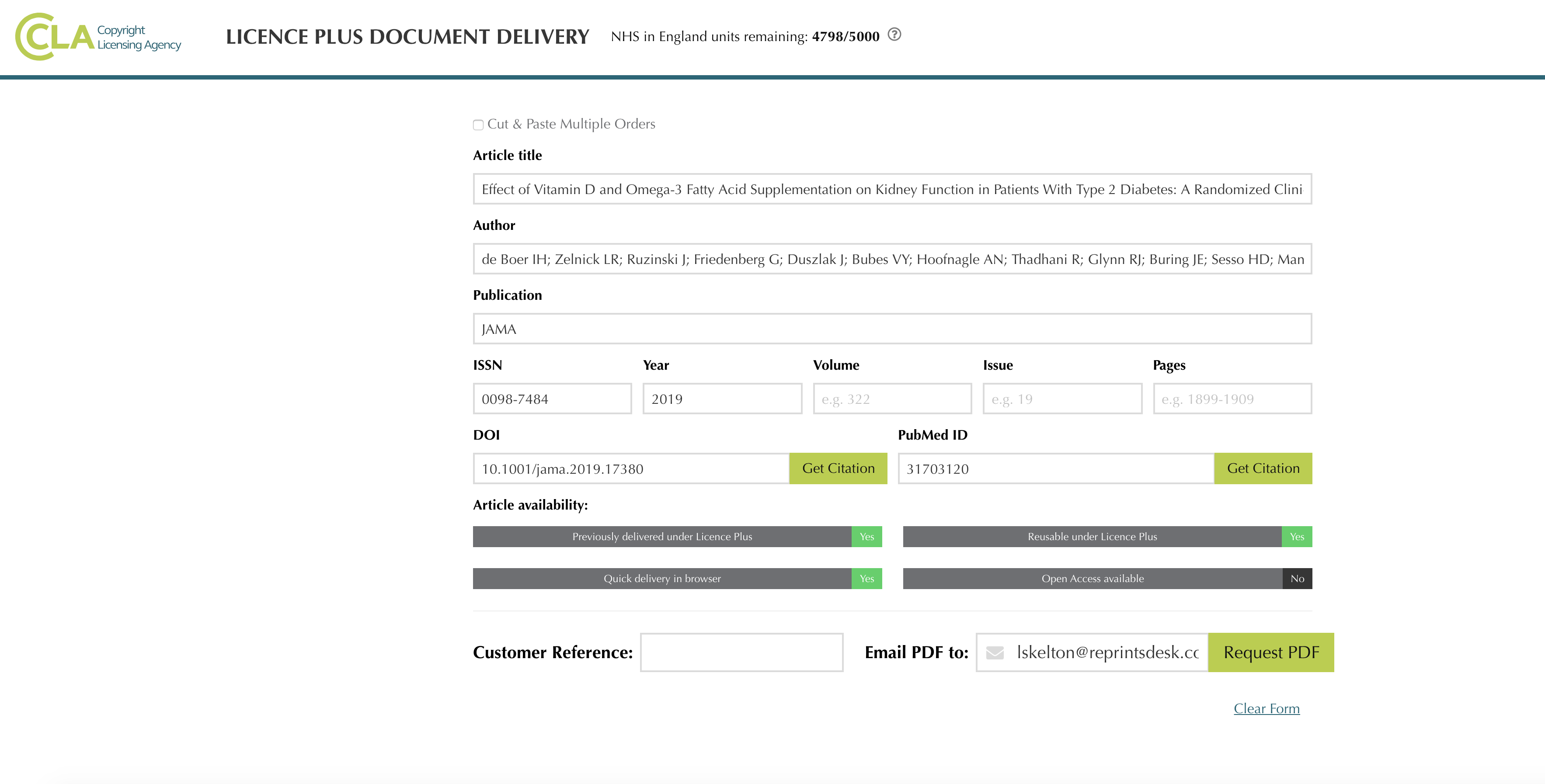 NHS License Plus Document Delivery Interface
Article Galaxy, an award-winning and robust SaaS platform for on-demand document delivery powered by Research Solutions, provides research-driven organizations with one-click access to scientific journal articles, along with advanced literature search and reference management tools.
For more information, contact an Article Galaxy expert or nhs@cla.co.uk.
About Research Solutions and Reprints Desk
Research Solutions, Inc. (NASDAQ: RSSS) is a pioneer in providing seamless access to scientific research. Its wholly-owned subsidiary Reprints Desk, Inc., simplifies how organizations and individual researchers discover, acquire, and manage scholarly journal articles, book chapters and other content in scientific, technical, and medical (STM) research. More than 70 percent of the top pharmaceutical companies, prestigious universities, and emerging businesses rely on Article Galaxy, Reprints Desk's cloud-based SaaS research platform, for simplified and lowest cost access to the latest scientific research and data. Featuring an ecosystem of app-like Gadgets for a personalized research experience, Article Galaxy offers individual as well as enterprise plans, coupled with unparalleled, 24/7 customer support. For more information and details, please visit www.researchsolutions.com and www.reprintsdesk.com
About CLA
The Copyright Licensing Agency (CLA) is the recognised UK collective rights licensing body for text and images from book, journal and magazine content. We provide rights, content and licensing services to customers in the academic, professional and public sectors. We perform collective licensing on behalf of the Authors' Licensing and Collecting Society Ltd. (ALCS) and the Publishers' Licensing Society Ltd. (PLS) and other copyright owners. With streamlined workflow systems and over 30 years' experience in our core markets, we're uniquely positioned to help our customers access, copy and share the content they need. And make sure copyright owners are paid the royalties they are due. We're a leading member of the International Federation of Reproduction Rights Organisations (IFRRO) and the Alliance for Intellectual Property. For more information, please visit www.cla.co.uk/.
Forward-Looking Statements
Certain statements in this press release may contain "forward-looking statements" regarding future events and our future results. All statements other than statements of historical facts are statements that could be deemed to be forward-looking statements. These statements are based on current expectations, estimates, forecasts, and projections about the markets in which we operate and the beliefs and assumptions of our management. Words such as "expects," "anticipates," "targets," "goals," "projects", "intends," "plans," "believes," "seeks," "estimates," "endeavors," "strives," "may," or variations of such words, and similar expressions are intended to identify such forward-looking statements. Readers are cautioned that these forward-looking statements are subject to a number of risks, uncertainties and assumptions that are difficult to predict, estimate or verify. Therefore, actual results may differ materially and adversely from those expressed in any forward-looking statements. Such risks and uncertainties include those factors described in the Company's most recent annual report on Form 10-K, as such may be amended or supplemented by subsequent quarterly reports on Form 10-Q, or other reports filed with the Securities and Exchange Commission. Readers are cautioned not to place undue reliance on these forward-looking statements. Examples of forward-looking statements in this release include statements regarding the effect of License Plus Document Delivery on healthcare provision for NHS bodies, and on NHS users' allocation of their time. The forward-looking statements are made only as of the date hereof, and the Company undertakes no obligation to publicly release the result of any revisions to these forward-looking statements. For more information, please refer to the Company's filings with the Securities and Exchange Commission.