Navigating the Landscape of AI Content Creation in the Era of Authentic Research

Research Solutions|Marketing Team
May 4, 2023
As the application of AI technology continues to develop and expand, content creation is no exception.
With the ability to generate content at lightning-fast speed and analyze large amounts of data, it has influenced various fields, including research and content creation. However, authentic research is crucial in producing credible content. As the demand for reliable and trustworthy literature increases, the question arises: Is AI content creation a landmine in the era of authentic research?
We asked our community: would you use ChatGPT in scientific content creation? Looking at the results below, respondents appeared to be quite split.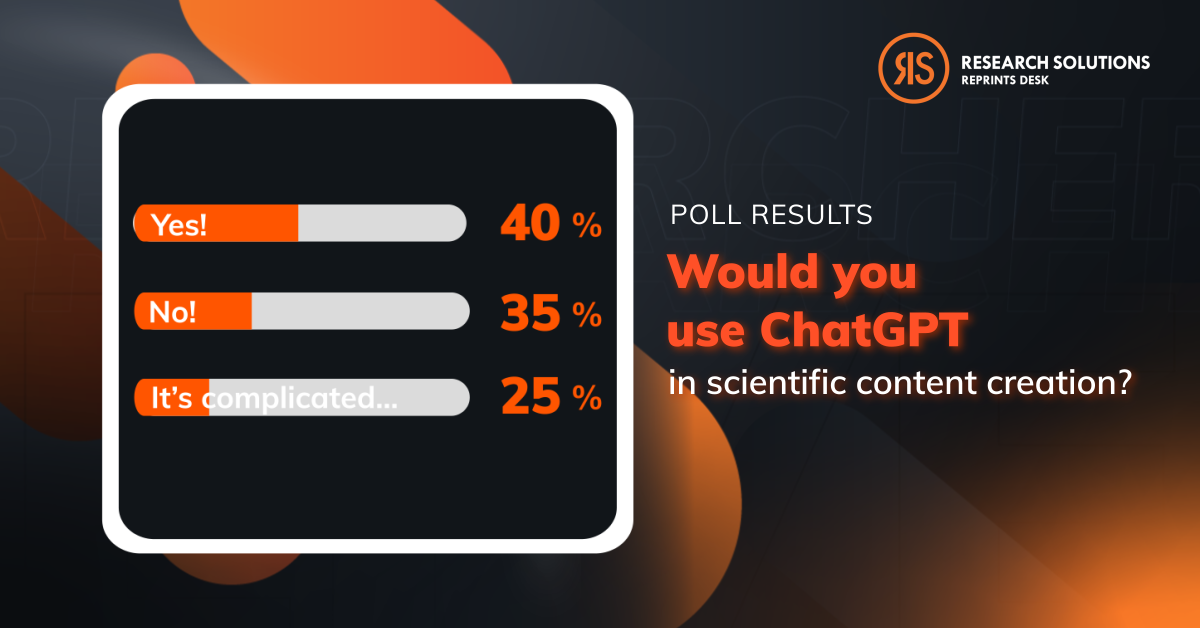 Therefore, it behooves us to evaluate both the advantages and downsides of this technology for use in such projects.
The Benefits of AI-Powered Content Creation
Tools such as ChatGPT can significantly enhance the process of creating research papers and have the potential to improve the accuracy and quality of scientific research. For instance, a recent study concluded ChatGPT generated largely accurate information to diverse medical queries as judged by academic physician specialists. Another study found that ChatGPT helped improve physician communication skills, workflows, and overall quality of patient outcomes.

These tools allow researchers to quickly generate high quality documents, as well as automatically synthesize meta information from multiple sources, extract relevant facts and data points, or create automated summaries for all kinds of scientific research topics. The use of AI in content creation can also help reduce human error by ensuring that all generated documents are free from typos, formatting issues, and other common mistakes made by humans.

In addition to the quality and speed benefits, it can also be beneficial for creating more accurate representations of data and scientific facts. With the help of machine learning algorithms, such tools are able to automatically detect patterns in large datasets and use them to generate comprehensive summaries with the most relevant information. This helps researchers improve their understanding of complex topics by allowing them to quickly identify key points from a vast range of sources.

Overall, AI-powered content creation can be leveraged as an invaluable asset in facilitating scientific research. It can be used to quickly create comprehensive documents on a range of scientific topics and help researchers stay up to date with the most recent advancements in their field. And as this technology continues to improve, there is increasing potential to improve accuracy, quality, and efficiency within the knowledge creation process.
The Limitations of AI Content Creation
AI-powered content creation, however, does come with its limitations. The most significant of which being often the lack of attribution of facts and conclusions to their original sources or incorrect sources. Though AI-generated content is becoming more refined, it can still fall short of creating authentic research literature on demand. For example, a recent study found that references and citations created by ChatGPT may not be 100% accurate. While AI can generate predictions based on existing data, it is still up to researchers to investigate the relevance of those findings; subject matter expertise is key to identify and remove misinformation, which can in and of itself become a time-consuming task if attribution is not clear.

Another limitation of AI content creation is that it can be biased. AI algorithms are dependent on the data they're trained on. If that data is biased, then the AI-generated content produced will also reflect those biases. Research leaders should ensure that their AI is not learning from such biased data; it is essential to create an AI algorithm that learns from diverse perspectives and input in order to produce content that reflects different viewpoints.

ChatGPT offers a surface-level look at various topics, but since it is trained from web content with no veracity vetting process in place, its provided information cannot always be trusted. In order to achieve accuracy, consistency, or specificity, researchers must proceed cautiously when relying on AI models for any scientific material to ensure facts remain reliably correct and well explored before publication.

A potential solution to this problem is the focus of a beta project by Scite.ai. Through their new subscription-based tool, Assistant, users can now type out an inquiry and an answer will be generated with ChatGPT with instant annotations containing references to relevant scholarly articles. What makes it truly unique is that each response comes accompanied with a fact-check call-out, breaking down how many other papers cited the reference and whether those sources provided evidence for or against the claim within said paper – making sure inquiries receive reliable answers.
Navigating the Landscape of AI Content Creation
AI content creation is one of the most significant trends today, providing enormous benefits for many researchers. However, as AI-generated content continues to grow in popularity, research-driven companies, and their research leaders, must take responsibility for promoting transparency and ethical AI practices and use cases.

Utilized appropriately, AI content tools, such as ChatGPT, can help improve the speed at which research, and associated literature, is produced, but there is still a long way to go. Research leaders need to ensure that the content produced by the AI is authentic and credible. Because, at the end of the day, authenticity in research is the foundation of trustworthy science that can transform the world.
A Strategy That Evolves with the Times
At Research Solutions, one of our core missions is to innovate to help customers achieve more and digest information faster. Rooted in a deep understanding of this evolving tech, we've connected AI-powered features into our product strategy to help organizations scale their research processes and accelerate results. As such, we are developing new search and discovery experiences across all Research Solutions products - especially generative NLP models like ChatGPT and Semantic Scholar. We are also supporting content creation use cases through Article Galaxy References and Curedatis, enabling researchers to create summaries and synthesize existing data to write article Introductions, method sections, and post-market surveillance related systematic reviews.

Curious how these advancements could benefit you?

Let one of our experts show you what Article Galaxy has in store! Make sure all your questions are answered by booking a demo today - it's never been easier for you to rise above and beyond with any project.