Article Galaxy: Get quick, lowest-cost access to any biomedical research paper
For companies focused on biomedical science research, discovering and obtaining all the journal articles required for study can be a complex, cumbersome—and costly—process. That's especially true for small and medium-sized biomedical companies that are working with limited resources.

Often, for example, a researcher will spend an inordinate amount of time searching for relevant articles—scouring multiple publisher websites and research databases. But that's only the beginning. Accessing the full-text paper involves even more complexities—like determining if the full-text article is available via open access or through an existing subscription, or if obtaining the paper requires a purchase. Other obstacles, such as time-consuming ordering and retrieval processes, can add even more frustration.
Do these challenges sound all-too-familiar?
If you're looking for an easier and more cost-efficient way to access the content you need, we can help.
Article Galaxy is an easy-to-use, one-stop solution that lets you:
Search for content across all scientific publishers
Order articles directly from your search results
Obtain the article at the lowest available cost
Avoid wasteful spending on duplicate orders
Retrieve full-text PDFs in seconds


Ready for simple, cost-efficient access to biomedical research papers?
To find out how Article Galaxy can help your organization access and manage biomedical literature more effectively and cost-efficiently, schedule a call with one of our knowledgeable experts. We'll discuss your current systems and most pressing challenges, offer solutions, and show you how Article Galaxy can help. And if you're interested, we'll get you started with a free trial of the platform. Submit the form on the right to get started.
Not yet ready for a call or demo? Grab this free white paper instead. It will help you navigate the twists and turns of biomedical research acquisition. Packed with practical tips and tactics from top knowledge management experts, you'll learn how to:
Search, discover, access, and manage research papers more efficiently
Stop jumping through hoops to ensure copyright compliance
Monitor the biomedical landscape for safety and competitive edge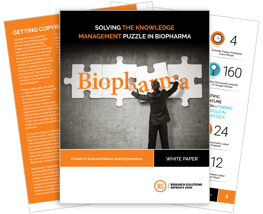 Download your copy of the white paper:
Solving the Knowledge Management Puzzle in Biopharma